ATP Science Citrulline (250g)
$38.95
Description
ATP Science Citrulline
ATP Science Citrulline can play an important role in the body, but unlike some amino acids, it is not primarily used to build protein. However, L-citrulline does play a necessary part in the urea cycle to rid your body of harmful compounds. Specifically, assisting the urea cycle to remove ammonia from the body. The final product of this cycle is urea which your body gets rid of in urine.
L-Citrulline is a non-essential amino acid that can be bio-synthesised internally by the body, however, oral consumption appears to enhance its capabilities. Through the biosynthesis or oral consumption of L-Citrulline, the body utilises Citrulline by converting it into arginine, which then plays an important role in many facets of human physiology.
Found to be both beneficial for strength and endurance athletes, L-Citrulline enhances peripheral blood flow to the working muscle, meaning a greater delivery of oxygenated blood can be achieved during exercise.
For the endurance athlete, this means more nutrient delivery and greater toxic waste removal, whereas for the lifting athlete it may also aid in increasing muscle growth due to an increase in fascial stretching and sarcoplasmic volume, alongside improved performance.
The great thing about L-Citrulline is it does not become degenerated once entering the stomach, but instead passes into the system to be utilised far more effectively than Arginine itself.
**These statements have not been evaluated by the Therapeutic Goods Administration. This product is not intended to diagnose, treat, cure or prevent any disease. Please consult a qualified professional before undertaking any health, fitness or dietary program.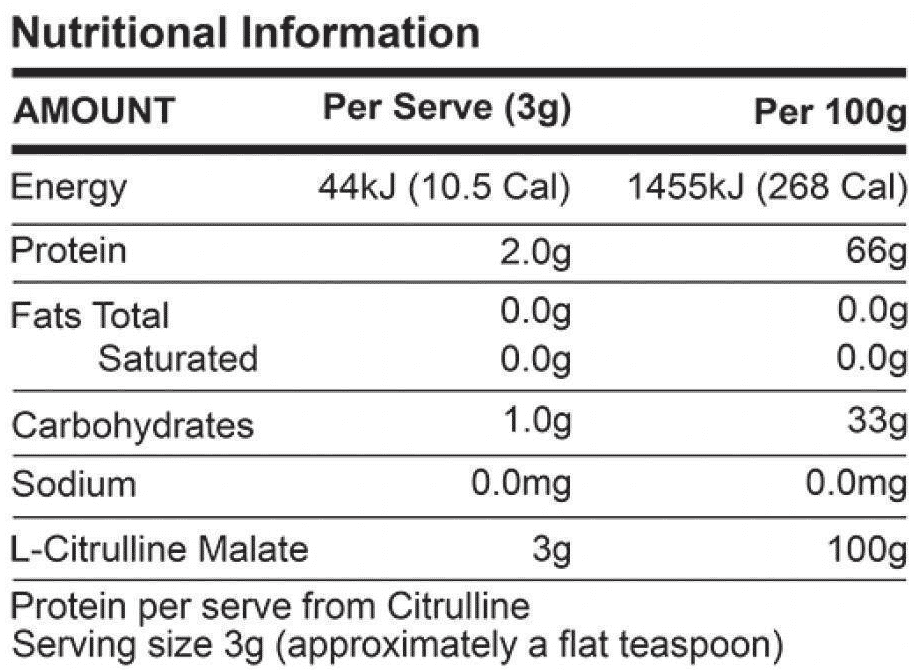 Directions: As a dietary supplement, take one or two 1/4 level teaspoons 1 to 2 times daily between meals.
For best results: take 1-3 grams 2 to 3 times daily.
Disclaimer: ATP Science The packaging may vary as we are transitioning into new updated packaging, if you have any questions please feel free to contact our Customer Service team.