AXE & SLEDGE GDA+ (90 Capsules) GLUCOSE DISPOSAL AGENT
$88.95
Description
Axe & Sledge GDA+
Axe & Sledge GDA+ is a revolutionary glucose disposal agent with added compounds to improve fat metabolism & limit storage.
Glucose disposal agents have sprung to popularity in recent times due to their ability to mimic the response of insulin in the body. Insulin helps to shuttle nutrients into the muscle cells and is secreted by the pancreas in the body when carbohydrates (glucose) are ingested.
Commonly referred to as the most anabolic hormone in the body, the benefits on insulin are pronounced with the main benefit of this product being to help store glucose in skeletal muscle where it can be used as energy, rather than as body fat.
Axe & Sledge have not just stopped their though, they have also included the revolutionary ingredient LipoSan Ultra®. This compound has been proven to reduce the amount of fat absorbed into the body. This unique technology forms a gel around dietary fat to prevent absorption.
The final addition in this is extra digestive enzymes to improve overall digestion and nutrient uptake.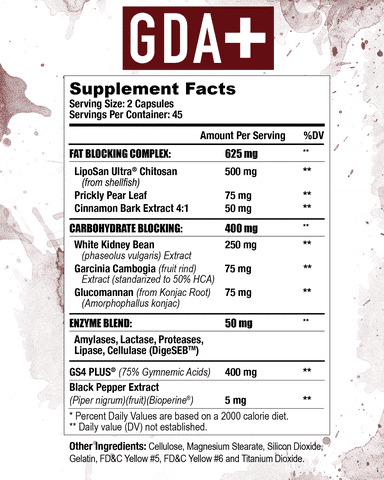 So when do i take GDA+?
You should take GDA+ with those higher carb, higher fat, or cheat meals. GDA+ can also be used pre-workout with 2 scoops of demo day for those big training days. GDA+ will help maximize the utilization of demo day by driving it directly into the muscles & blockingit from being stored as fat. Big Pumps. Big gains!
GDA+ Usage Instructions:
| | | |
| --- | --- | --- |
| Carbohydrates Per Meal | Fats Per Meal | 20-30 Minutes Before Meal |
| 45-64 grams | 8-15 grams | 2 capsules |
| 65-84 grams | 16-24 grams | 3 capsules |
| 85+ grams | 25+ grams | 4 capsules |