EFX Sports Kre-Alkalyn EFX (120 Capsules)
$49.95
Description
EFX Sports Kre-Alkalyn EFX
Here's why EFX Sports Kre-Alkalyn EFX is formulated to win!
100% Stable, Multi-Patented, pH-Correct® Creatine Monohydrate (pH 12)
Science-backed results
Purple capsule: Convenient, No Mixing or Measuring
Powder Form: No Artificial Flavors or Fillers
Liquid: Delicious Grape, Also Contains 500 mg of Karbolyn Per Serving
Tested Banned-Substance Free & Pure
the Kre-Alkalyn EFX difference it's buffered. it's stable. it works!
Kre-Alkalyn® EFX represent a major breakthrough in performance supplementation thanks to its multi-patented, 'pH-Correct®' creatine stabilization technology. Our scientist discovered that "buffering" to pH-12 produced a stable creatine molecule. Kre-Alkalyn® EFX is the only creatine monohydrate product with a pH of 12 because its molecules are synthesized with 'buffering' agents using a patented (#6,399,661) manufacturing process.
from lab to the gym!
Twenty-four elite athletes from the Bulgarian National Weightlifting Team† were selected to participate in a double-blind clinical study(1) comparing Kre-Alkalyn® to standard creatine monohydrate.
After 60 days, the Kre-Alkalyn® group (using 7.5 g per day) experienced an overall average strength increase of 28.25% above those in the unbuffered creatine monohydrate group!
†Elite athletes using 7.5 g of Kre-Alkalyn®. Individual results may vary. Referenced: (1) Stoychev K., Terziiski N. (2006). "Comparison of Kre-Alkalyn to Creatine…performance, & safety".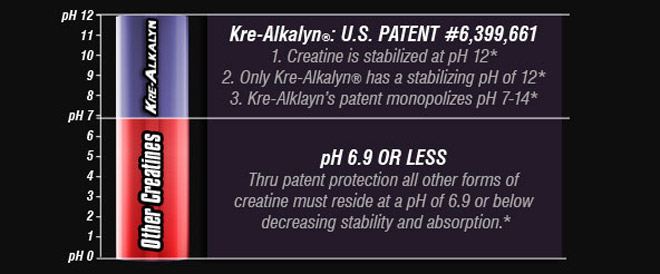 **These statements have not been evaluated by the Therapeutic Goods Administration. This product is not intended to diagnose, treat, cure or prevent any disease. Please consult a qualified professional before undertaking any health, fitness or dietary program.
Supplement Facts
Serving Size: 2 capsules
Servings Per Container: 60
Ingredient
Amount
% Daily Value**
Kre-Alkalyn
1500mg
** Percent Daily Value is based on a 2000 calorie diet. Your daily values may be higher or lower depending on your calorie needs.
† Daily Value not established.
Ingredients:
Other Ingredients: Capsule (gelatin, FD&C Blue #1, FD&C Red #40), Maltodextrin, and Magnesium Stearate.
Manufacturer's Directions
As a dietary supplement, take 2 capsules 30 minutes prior to workout and 2 capsules after workout.