INTERNATIONAL PROTEIN COMPLETE AMINO (320g)
$49.95
Description
International Protein Complete Amino
International Protein Complete Amino is an advanced, scientifically formulated, during and post-workout formualtion developed to help achieve the fastest recovery possible after intense aerobic or heavy anaerobic training, while still achieving significant muscle synthesis and reduced muscle soreness.
Complete Amino contains a blend of natural fermented L-Glutamine, Branched Chain Amino Acids (BCAA's) and Pepto Pro® Hydrolysed Casein, providing a full spectrum of micro-nutrients critical to muscle recovery. Pepto Pro® is pre-digested, with > 60% di and tri peptides for instant delivery, even under heavy training conditions. Substantial human clincial studies show Pepto Pro® can improve endurance, reduce muscle soreness, deliver faster recovery and increase muscle growth.
Complete Amino can be used on its own or in combination with International Protein EXTREME CARBS. Studies show that when Pepto Pro®is consumed with carbohydrates, improved protein balance and muscle protein synthesis was observed already during exercise!
Rapid Recovery
Stronger Immunity
Reduced Soreness
Contains:
PeptoPro
PeptoPro is a predigested casein protein, that has been hydrolysed to ensure maximum absorption is achieved with minimum gastric stress. With more than 60% being di and tri-peptides, PeptoPro provides instantaneous amino delivery into the blood stream to ensure optimal muscle recovery, reduced muscle soreness and increased muscle growth.
L-Glutamine
Derived from naturally fermented sources, L-Glutamine supports gut health, strengthens your immune system and enhances muscle recovery around exercise due to exercise induced glutamine depletion.
Branched Chain Amino Acids (BCAA's)
Making up a large amount of muscle tissue, BCAA's are the building blocks of muscle tissue and support cognitive function during exercises as well due to their interaction with key neurotransmitters.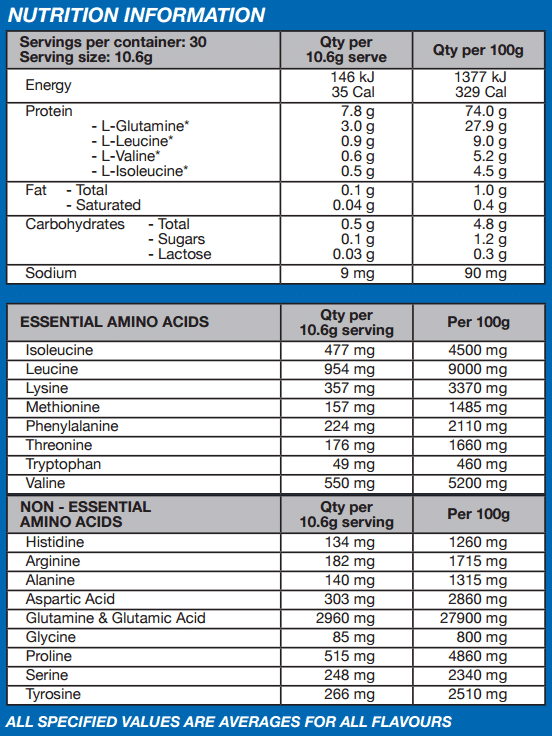 Directions:
For lean muscle recovery mix 10.6 grams (one scoop) with about 500ml of water and consume during and after your workout.
For energy and muscle recovery mix 10.6 grams (one scoop) with about 500ml of water and 40-80 grams (one to two scoops) of International Protein Extreme Carbs and consume during and after intense activity.
Additional information
| | |
| --- | --- |
| Flavour | Honeydew Melon, Lemonade, Passionfruit, Strawberry Kiwi, Watermelon |