International Protein Superior Whey (4.55kg)
$178.95
Description
International Protein Superior Whey
International Protein Superior Whey is a low calorie flavoured whey protein powder that contains hydrolysed whey protein isolate (whey peptides), whey protein isolate and concentrate. Superior Whey promotes a powerful muscle protein synthesis response, supporting recovery and adaptation to exercise. Each serve provides over 30 grams of quality bioavailable protein, rich in naturally occurring essential amino acids (EAAs) and branched chain amino acids (BCAAs).
The protein sources in International Protein Superior Whey are absorbed rapidly for immediate release of amino acids into the bloodstream to support muscle recovery and adaptation to exercise. Whey protein is regarded as the highest quality protein source available, perfect for maintenance or muscle gain programs or anyone physically active.
Superior Whey contains over 31g protein per serve with a low carbohydrate and fat content. Providing abundant levels of essential amino acids and naturally high in BCAA's, International Superior Whey initiates the recovery process post-workout, priming you for superior lean muscle gains.
The flavours are perfectly balanced whether you mix in water, milk or milk alternative, making for a delicious protein shake that isn't overly sweet or rich. The Vanilla and Chocolate are extremely popular. However, if you're looking for something different, try Cookies, Banana or Strawberry.
Product Features
High Quality Whey Blend.
Over 30g Protein per Serve.
High in EAAs & BCAAs.
Initiates Muscle Recovery.
Low Carbohydrate, Low Fat.
**These statements have not been evaluated by the Therapeutic Goods Administration. This product is not intended to diagnose, treat, cure or prevent any disease. Please consult a qualified professional before undertaking any health, fitness or dietary program.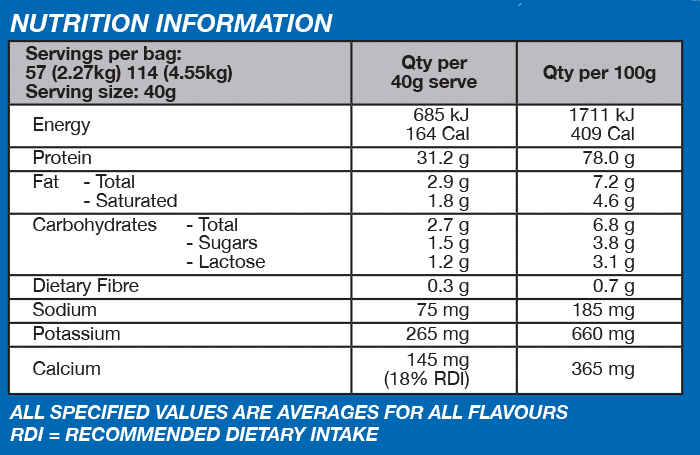 Directions:
Mix 1½ scoops (40g) with 200 – 300ml of cold water or milk of your choice in a shaker. Take 2 – 3 times daily depending on your protein needs. For best results use first thing in the morning, mid morning and mid afternoon or pre and post-workout.