MUSCLETECH CLEAR MUSCLE (84 Liquid Capsules)
$124.95
Description
Muscletech Clear Muscle
Muscletech Clear Muscle is everything you love about the original Clear Muscle, now in a super-concentrated, single-pill dose. It supplies a revolutionary musclebuilding compound called BetaTOR®, which is a unique, cutting-edge metabolite and free acid derivative of leucine and HMB. This one-of-a-kind compound unlocks the true potential of HMB for unprecedented bioavailability, effectiveness and results.
BetaTOR® works to dramatically amplify protein synthesis through the mTOR pathway while simultaneously fighting muscle breakdown by inhibiting the UPP pathway. This puts the body into the perfect state to build muscle. There is no other supplement like this, and it is exclusively available to MuscleTech in a clear liquid pill.*
Extraordinary Study Results
Researchers at a leading U.S. university conducted a randomized, double-blind, placebo-controlled clinical study where they gave one group of subjects the BetaTOR® compound found in Clear Muscle Next Gen; the second group received a placebo. Both groups went through a hardcore, 12-week training regimen, consisting of 3 to 5 days of weightlifting per week.*
The results were staggering – subjects using the precise Clear Muscle Next Gen formula gained 16.3 lbs. of muscle in 12 weeks. The placebo group gained 4.6 lbs. These results are more profound than any results from research conducted on protein, creatine, BCAAs, or any other performance-enhancing compound.*

Amplify Protein Synthesis
Looking at biochemical markers of muscle growth and muscle breakdown, the researchers showed that ingestion of a daily dose of BetaTOR® all at one time increased musclebuilding activity (muscle protein synthesis) and decreased protein breakdown by +70% and -58%, respectively. The results from their study provide mechanistic support for the overall amazing musclebuilding power of Clear Muscle Next Gen.*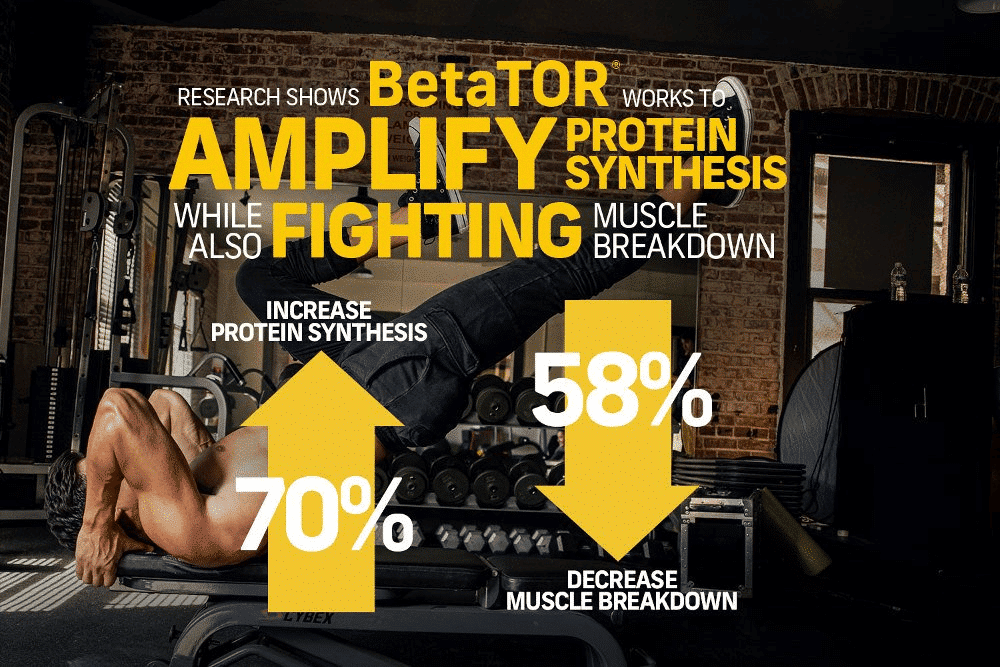 **These statements have not been evaluated by the Therapeutic Goods Administration. This product is not intended to diagnose, treat, cure or prevent any disease. Please consult a qualified professional before undertaking any health, fitness or dietary program.

Serving Size: 1 Liquid Softgel Capsule
Servings Per Container: 84
Amount Per Serving Amt %DV
BetaTOR® (beta-hydroxy-beta-methylbutyrate free acid) 1000mg †
Betaine anhydrous 250mg †
* % Daily Value is based on a 2,000 calorie diet. Your daily values may be higher or lower based on your calorie needs.
† Daily Value (DV) not established.
Ingredients:
Glycerin, Modified Food Starch, Carrageenan, Sorbitol, Purified Water, Natural Flavors.
Directions:
Take 1 serving (21 Soft gel) in the morning, mid-afternoon, and evening. On workout days, take 1 of these servings 30 minutes before training. Do not exceed 3 servings (3 soft gels) in a 24-hour period.
Warnings:
FOR ADULT USE ONLY. Do not use if pregnant or nursing. Consult a doctor before use if you have a medical condition and before starting a diet or exercise program. KEEP OUT OF REACH OF CHILDREN. Store in a cool, dry place.