Sale!
SOPHARMA TRIBESTAN (Value Pack) 250mg BULGARIAN TRIBULUS
Description
Sopharma Tribestan
Sopharma Tribestan is a completely natural non-hormonal herbal product derived from the plant Tribulus terrestris L., Bulgaricum, which contains predominantly saponins of furostanol type (not less than 45% in Tribestan), with prevailing quantity of protodioscin. Over 25 years of experience with natural herbal Tribestan administration has seen no toxicity and negative effects to date.
3 Month Supply!
NEW LOOK – SAME LEGENDARY FORMULATION
Further R&D efforts included incorporation in a tablet form of a substance greatly affected by absorbed humidity. Tribestan was approved for production and implemented in mainstream practice in 1985, and on the market ever since. The product is practically non-toxic and has no side effects – no changes of lifestyle required when accepting Tribestan. Tribestan is natural and safe. Tribestan is based on a proprietary extract from Sopharma and the active substance does not contain herbal particles.
Sopharma Bulgaria Tribestan has been used in recreational sports!
We would like to emphasize that the push towards higher Protodioscin content in Tribulus based products is misleading. The product claiming higher levels of Protodioscin simply use inferior extracts or ground herbal material and artificially add Protodioscin. The true superiority of the effectiveness and safety of Tribestan is expressed in a biologically balanced substance where are present not only Protodioscin, Protogracillin, but other key saponins in critically important ratios.
Tribestan properties and applications
May be used by recreational athletes.
Appropriate for men and women.
Traditionally used as a natural supplement.
Tribestan is indicated for use as a single agent or as a component in complex therapies.
Tribestan's safety
Special attention should be given to the harmlessness of the natural herbal product Tribestan.
No evidence of acute, sub-acute and chronic toxicity has been found during the experimental behavioral, hematological, functional, biochemical and morphological studies.
Absence of carcinogenic and teratogenic effect.
No adverse effects were noted in any of the clinical studies and additional research demonstrated no adverse effects.
Tribestan has been used with no contraindications, no toxicity and no side effects. With its good safety profile and its natural herbal origin, Tribestan is sold as a dietary supplement in many countries with little restriction on its use.
Composition:
One film tablet contains 250 mg dry extract of Tribulus terrestris L. (not less than 45% furostanol saponins)
Sopharma Tribestan – PROPERTIES AND APPLICATIONS
Reproductive system of Males and Females
In Proffesional sports and for Recreational athletes
Traditionally used to enhance vigor, vitality and stamina

Tribestan is indicated for use as a single agent or as a component in complex therapies.
**These statements have not been evaluated by the Therapeutic Goods Administration. This product is not intended to diagnose, treat, cure or prevent any disease. Please consult a qualified professional before undertaking any health, fitness or dietary program.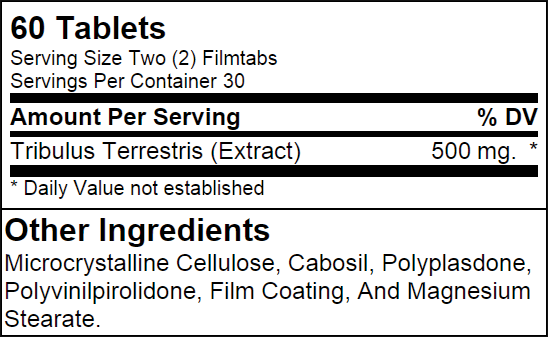 Dosage and administration:
Usually – 1-2 tablets, 3 times daily during meals. Duration of intake should be not less than 90 days. Thereafter the dose is reduced to 2 tablets daily for 50-60 days (maintenance dose). Tribestan may be used in a dose of 1 tablet 3 times daily without interruption for a period of one year.
Contraindications:
Yet, there are not known contraindications.
Drug interactions:
Tribestan is completely non-toxic products and has no known interactions with other products.
Adverse reactions:
No clinically significant adverse reactions have been observed.
Supplied:
60 filmtablets (250 mg)
Dispensing:
Without prescription.