UNIVERSAL ANIMAL CUTS POWDER (248g)
$89.95
Description
Universal Animal Cuts Powder
Universal Animal Cuts Powder Ripped & Peeled. That's what Animal Cuts is all about. Animal Cuts is a metabolic powerhouse crammed into a single scoop. Each precisely formulated dose can help you to tear away the unwanted adipose accumulated in the mass-gaining off-season, to help reveal the hard, grainy muscle underneath. Be a freak and see the freaky physique that you've worked so hard to build with the extreme, all-in-one cutting stack, the one that goes above and beyond in the quest to get shredded.
Ripped & Peeled. You know the deal. Coz cardio sucks. The fat burning-furnace-in-a-pack, Animal Cuts has been called upon for more than a decade when being lean just wasn't good enough. Loaded with raw thermogenic firepower, potent metabolic optimizers, pro-thyroid nutrients, focus agents, cortisol and craving control, diuretics to drop subcutaneous water and a bio-availability blend engineered to efficiently deliver all of these adipose-incinerating nutrients–that is the Cuts formula, and it's no joke. Keep it clean in the kitchen, gritty in the gym and hit that cardio hard. Animal Cuts will take care of the rest.
**These statements have not been evaluated by the Therapeutic Goods Administration. This product is not intended to diagnose, treat, cure or prevent any disease. Please consult a qualified professional before undertaking any health, fitness or dietary program.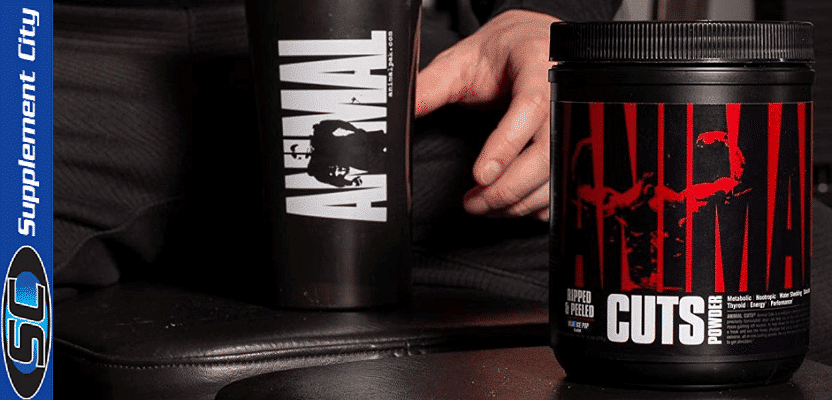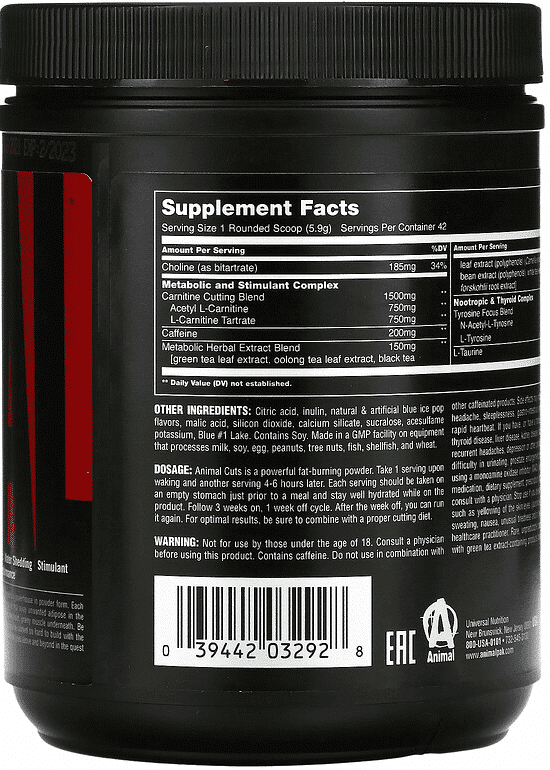 Contains Caffeine
Made in a GMP facility on equipment that processes milk, soy, egg, peanuts, tree nuts, fish, shellfish, and wheat.
Ingredients:
Other Ingredients: Gelatin, dicalcium phosphate, DMAE bitartrate, microcrystalline cellulose, magnesium stearate, stearic acid, titanium dioxide, soy, FD&C Blue #1, FD&C Red #40, FD&C Yellow #6, FD&C Yellow #5.
Directions
Take 2 packs a day for 3 straight weeks, 1 pack on waking & the other 4-6 hours later. Packs should be taken with a small meal and you should stay well hydrated while on the product. Follow a 3 weeks on, 1 week off cycle. After the week off, you can run it again. The Stimulant Complex is in the red capsule & the Water Shedding Complex is in the blue capsule.
Disclaimer
Not for use by those under the age of 18. Consult a physician before using this product. Contains caffeine. Do not use in combination with other caffeinated products. Side effects may include nervousness, irritability, headache, sleeplessness, gastro-intestinal symptoms and, occasionally, rapid heartbeat. If you have, or have a family history of, heart disease, thyroid disease, liver disease, kidney disease, diabetes, high blood pressure, recurrent headaches, depression or other psychiatric conditions, glaucoma, difficulty in urinating, prostate enlargement, seizure disorder, if you are using a monoamine oxidase inhibitor (MAOI), anti-depressants, or any other medication, dietary supplement, prescription drug or over-the-counter drug consult with a physician. Stop use if you develop symptoms of liver trouble such as yellowing of the skin/eyes (jaundice), stomach pain, dark urine, sweating, nausea, unusual tiredness and/or loss of appetite and consult a healthcare practitioner.
Additional information
| | |
| --- | --- |
| Flavour | Blue Ice Pop, Orange Mango |