GAT Nitraflex Black (452g)
$74.85
Description
GAT Nitraflex Black
GAT Nitraflex Black is the ultimate strength and energy formula – delivering 350g of caffeine to power you through any training session. With the best Nitraflex formula yet, take your workout to the next level and achieve the results you crave. Power up with Nitraflex Black!
GAT Nitraflex Black is a high stimulant pre-workout supplement designed to take your training sessions to the next level. It is formulated with an advanced blend designed to deliver unparalleled energy, focus, and strength. This powerful combination works to boost your nitric oxide levels, promoting increased blood flow for enhanced muscle pumps, endurance, and nutrient delivery to working muscles.
350mg of caffeine per scoop
Improved energy and endurance
Insane muscle pumps
Laser like focus
Increased blood flow
Improved mind-muscle connection
Its formula contains ingredients that support mental clarity, ensuring laser-like focus and mind-muscle connection throughout your workout. Nitraflex Black is the ideal choice for you if you're seeking an intense, performance-driven supplement that will improve both your physical and mental power, allowing you to conquer your fitness goals.
**These statements have not been evaluated by the Therapeutic Goods Administration. This product is not intended to diagnose, treat, cure or prevent any disease. Please consult a qualified professional before undertaking any health, fitness or dietary program.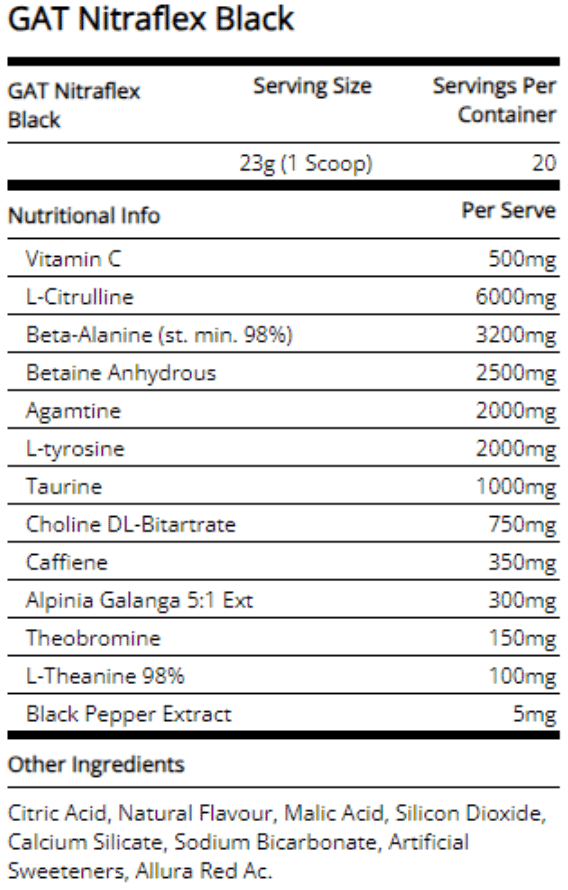 Directions
Mix 1 scoop with 300ml of cold water and consume 30 minutes before your workout. Try a half scoop first to assess your tolerance.
Additional information
| | |
| --- | --- |
| Flavour | Green Apple, Pineapple Orange MAngo, Strawberry Kiwi, Watermelon Dragonfruit |