Sale!
MHP T-BOMB 3XTREME (Value Pack)
Description
MHP T-Bomb 3xtreme
For over a decade, men have used MHP T-Bomb 3xtreme to naturally support healthy testosterone levels.* Its highly innovative formula has been shown to boost free testosterone levels over 30% – within your normal range – while supporting an increase in strength and hypertrophy.*
Multi-Ingredient Testosterone Formula*
Tribulus, Fenugreek & Zinc to Increase Free Testosterone*
DIM, Chrysin & Stinging Nettle Leaf to Balance Normal Estrogen Levels*
Saw Palmetto & Beta Sitosterol to Balance Normal DHT Levels*
University Tested Formula
Every Reason to Believe
Millions of Bottles Sold
Boosts Free Testosterone*
Enhances Muscle & Strength*
Supports Libido & Mood*
In a double blind placebo control experiment, T-Bomb 3xtreme was given to college aged, competitive athletes who were training upwards of 9 times weekly for six weeks, including competitive games, practices and weight lifting. The conditions were so harsh, that athletes taking a placebo actually decreased testosterone and free testosterone, plus lost lean body mass. Incredibly, at the end of the study athletes taking T-Bomb 3xtreme had over 30% greater increases in free testosterone relative to the control group, with no change in estrogen levels, plus higher lean body mass.* These results suggest that T-Bomb 3xtreme works under even the harshest of training conditions.*
Over 30% Greater Free Bioactive Testosterone*
More Lean Muscle Mass*
Boost Strength*
Supports Mood & Libido*
**These statements have not been evaluated by the Therapeutic Goods Administration. This product is not intended to diagnose, treat, cure or prevent any disease. Please consult a qualified professional before undertaking any health, fitness or dietary program.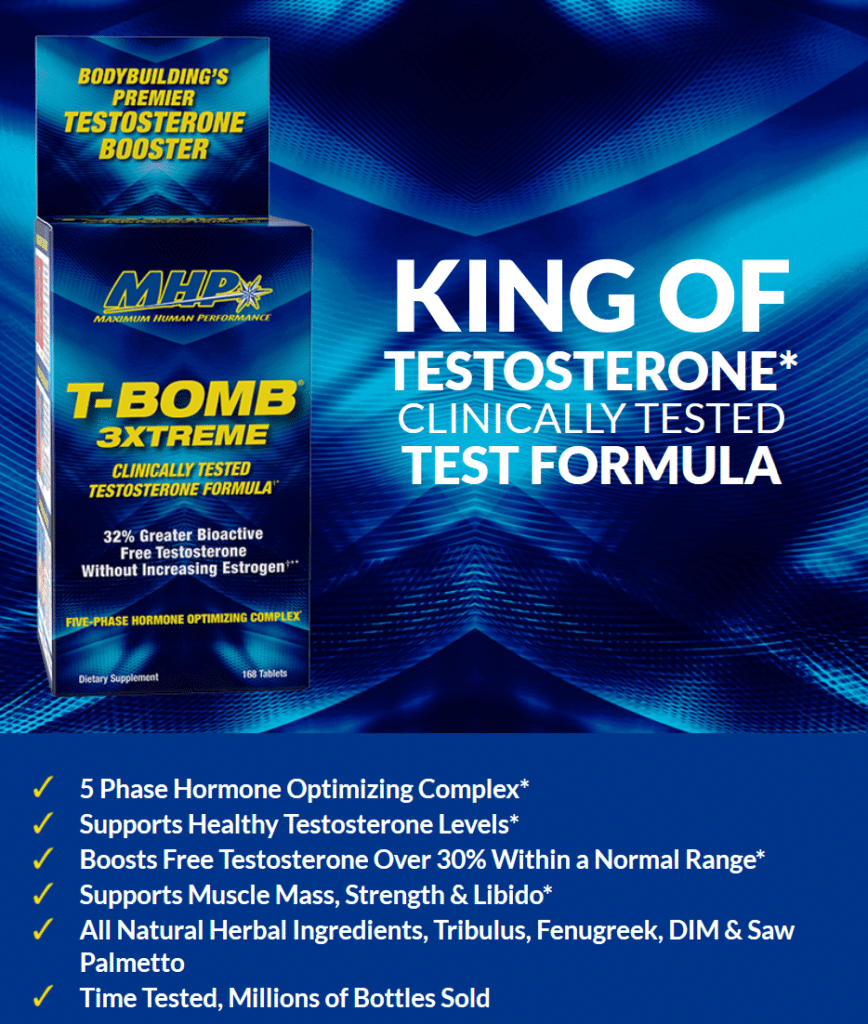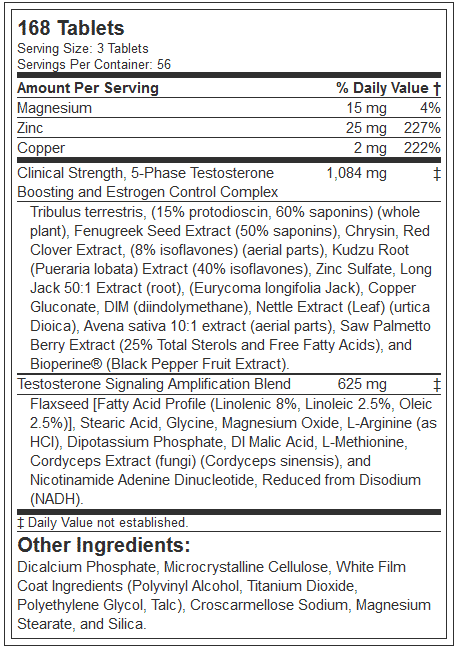 Directions For Clinical Strength T-Bomb 3Xtreme: As a dietary supplement, take 3 tables in the morning and 3 tablets in the evening with 8 fl. oz. of water. You may take before, during or after a meal – whichever is preferred.
Warnings: Keep out of reach of children. Do not purchase if seal is broken. Protect from heat, light and moisture. Store in a cool dry place.