Musclesport Rhino Rampage Pumped (120 Capsules)
$69.90
Description
Musclesport Rhino Rampage Pumped
Musclesport Rhino Rampage Pumped Pre Workout Capsules are the first in MuscleSport's Rampage PUMP Series. This encapsulated pre workout Pump supplement formula leads the industry in potency with over 6.5 grams of active ingredients proven to improve the workout experience.
Rhino Rampage Pumped was created to pack the full punch of a traditional, ready-to-mix pre workout Pump powder while avoiding the artificial sweeteners and fillers to support proper gastrointestinal function and complete absorption of each powerful ingredient. It definitely fits the bill!
Citrulline Malate (4,000 mg) – Pepform® Citrulline (4,000 mg) – All the benefits of citrulline in a more advanced delivery system with whey peptides for enhanced absorption.  Enhances blood flow, ability to perform repetitions to failure, ammonia clearance, nutrient delivery, and more!
BetaPower® Betaine Anhydrous (1,000 mg) – Betaine supplementation has been proven to enhance maximal training volume and power output, which can lead to accelerated gains if you're training maximally!
PeakNRG™ – is a combination of Adaptogens and Ayurvedic mushroom strains.  This allows athletes to "adapt" to and overcome physical and mental stress, giving you the extra edge you want to take your training to the next level.
The inspiration for Rhino Rampage PUMP rests in MuscleSport's passion for optimal human function. Using a pre workout pump supplement is a surefire way to improve every training session, which enhances gains over time.
SUPER PROTENT STIM FREE PREWORKOUT
Perfectly formulated to Stack well with our RHINO RAMPAGE Preworkout
Extremely Powerful PUMP Caps
Enhance Training Volume
Improve Power Output
Massive Muscle Pumps
Increase Strength and Muscle Gains
**These statements have not been evaluated by the Therapeutic Goods Administration. This product is not intended to diagnose, treat, cure or prevent any disease. Please consult a qualified professional before undertaking any health, fitness or dietary program.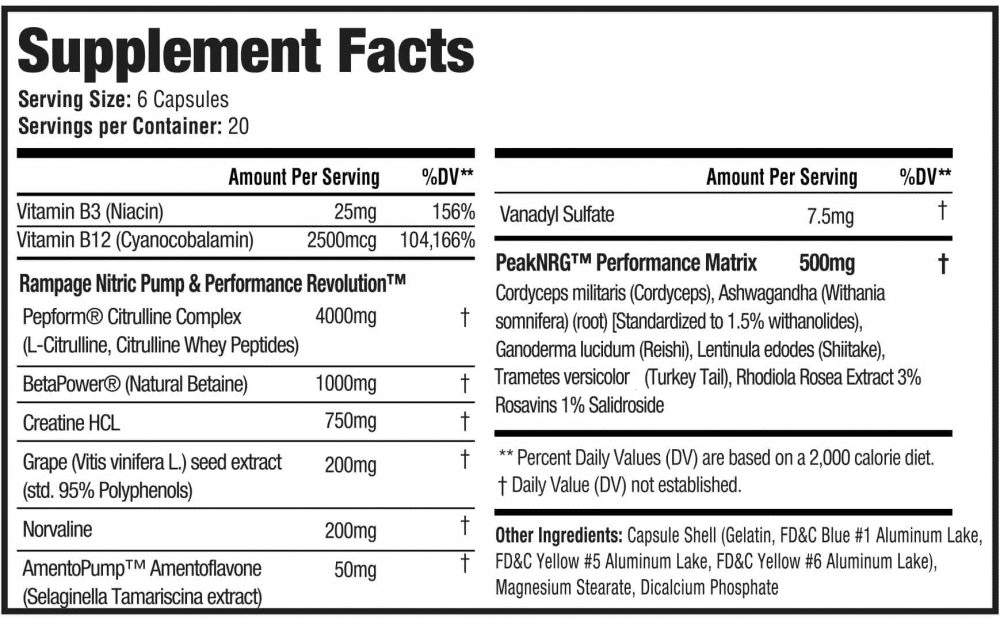 Directions: As a dietary supplement, mix one serving (23 grams) with 12-16 ounces of cold water or beverage of your choice 30-45 minutes prior to training..