NOW L-PHENYLALANINE (120 Veg Capsules)
$26.95
Description
Now L-Phenylalanine
Now L-Phenylalanine is an essential amino acid that is necessary for the synthesis of proteins.* Because L-Phenylalanine can be readily converted into the amino acid tyrosine, which forms part of the structure of the neurotransmittters dopamine and norepinephrine, it is important for the maintenance of a healthy nervous system.* As the building blocks of protein, amino acids are vital to health. Next to water, amino acids in the form of proteins make up the greatest portion of our body weight. They comprise tendons, muscles and ligaments; organs and glands; hair and nails; important bodily fluids, and are a necessary part of every cell in the body.
There are over 20 amino acids, separated into two categories – essential and non-essential. Essential amino acids are those that cannot be manufactured by your body, hence, it is essential that you obtain them from your diet. Non-essential amino acids can be manufactured by your body. L-Phenylalanine is an essential amino acid.
Natural color variation may occur in this product.
Settling of powder may occur in the capsule, which is filled by weight without added fillers.
500 mg
Free-Form
Nervous System Support
Supports Positive Mood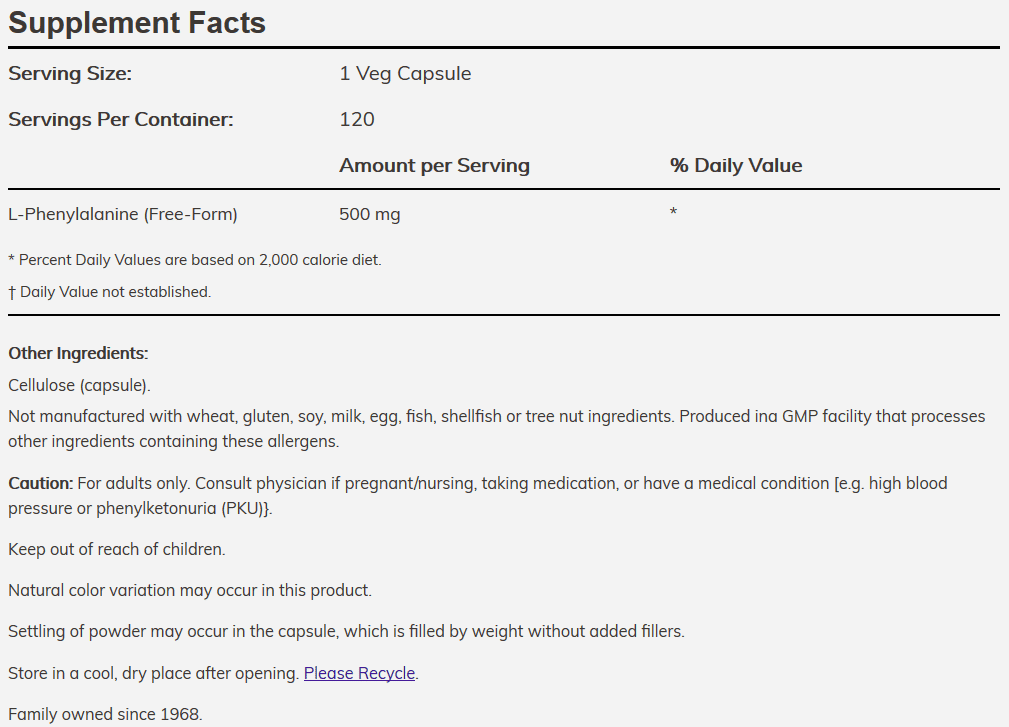 Directions: Take 1 capsule 1 to 3 times daily as needed, preferably between meals.
Store in a cool, dry place after opening.
Caution: For adults only. Consult physician if pregnant/nursing, taking medication, or have a medical condition [e.g. high blood pressure or phenylketonuria (PKU)}.