Life Extension Herbal Sleep PM (30 Vegetarian Capsules)
$34.95
Description
Life Extension Herbal Sleep PM
Life Extension Herbal Sleep PM contains lemon balm, honokiol and chamomile extracts to promote healthy sleep. These scientifically studied ingredients target multiple sleep centers in the brain. This formula does not include melatonin or milk peptides, making it an excellent choice for those who have tried either and find them ineffective or unsuitable.
Herbal Sleep PM uses scientifically studied ingredients to target multiple sleep centers in the brain, without melatonin or milk peptides.
Herbal Sleep PM Benefits 
Promotes healthy sleep by targeting multiple sleep centers in the brain
Promotes a healthy response to stress & a relaxed nervous system response
Calms your mind so you can fall asleep
Why Choose an Herbal Sleep Product?
Many of us have difficulty sleeping. Sleep-promoting hormone melatonin, along with milk peptides, are popular supplements to help you get your rest. But not everyone wants to take a hormone or dairy by-product. And for some, these ingredients simply don't work. So we've created a formula made with herbal extracts that each work in different ways to help you get to sleep and stay that way.
Sleep is crucial to our overall health and well-being. But factors like stress and extended time in front of screens have a negative impact on our sleep. A lack of sleep can do more than just ruin your day. It can affect cognitive health, metabolic health, and more.
Encouraging healthy sleep without melatonin 
There are plenty of sleep supplements that include either melatonin or milk peptides. But some people can't or won't ingest these ingredients. And for others, these ingredients simply do not work, indicating a need for a non-hormone or non-milk-based sleep formula.
That's why we've formulated Herbal Sleep PM with lemon balm, honokiol and the chamomile compound apigenin. These scientifically studied ingredients target multiple sleep centers in your brain.
Scientifically studied ingredients for healthy sleep 
Lemon Balm: In one study, 85% of subjects who took lemon balm extract for 15 days saw a significant improvement in healthy sleep and the remaining 15% were much improved.
Honokiol: Pre-clinical models indicate honokiol is quickly taken up into the brain, making it an ideal ingredient for those looking for a well-deserved rest. Honokiol has a calming effect on the brain as well.
Chamomile: Computer models and pre-clinical studies suggest apigenin might promote healthy sleep patterns similar to those caused by naturally-occurring neurologically active compounds in the body.
**These statements have not been evaluated by the Therapeutic Goods Administration. This product is not intended to diagnose, treat, cure or prevent any disease. Please consult a qualified professional before undertaking any health, fitness or dietary program.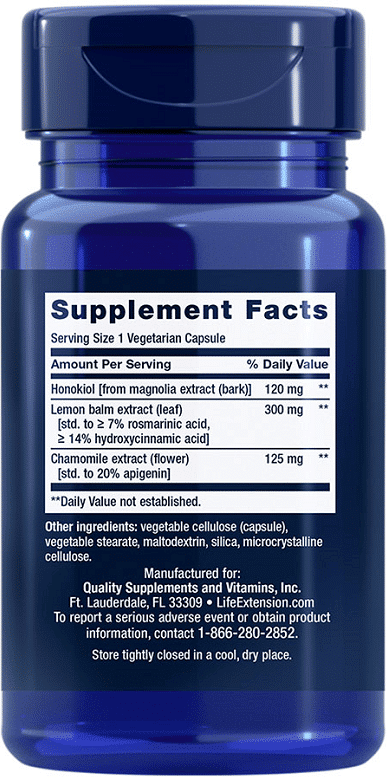 Suggested use:
Read the entire label and follow the directions carefully prior to use.
Take one (1) capsule 30 to 60 minutes before bedtime,  or as recommended by a healthcare practitioner.
One (1) additional capsule may be taken if needed.
Other ingredients:
Vegetable cellulose (capsule), vegetable stearate, maltodextrin, silica, microcrystalline cellulose.
Warnings:
Caution:  Do not consume alcohol, drive or operate machinery after taking this product.
Keep out of reach of children.
Do not exceed recommended dose.
Do not purchase if outer seal is broken or damaged.
When using nutritional supplements, please consult with your physician if you are undergoing treatment for a medical condition or if you are pregnant or lactating.
Store tightly closed in a cool, dry place.