ATP Science Noway Collagen Protein (1kg) Bodybalance®
$74.95
Description
ATP Science Noway Collagen Protein
ATP Science Noway Collagen Protein contains Bodybalance® Hydrolysed Bovine collagen peptides. Noway Protein focus on the components that provide our physical actions with the strength they require day in and day out…
Flexibility
Movement
Recovery
Increase in daily protein.
Bloat free.
Gut friendly.
ATP Science use specific German-engineered Bovine Collagen Peptides, each with specific functions in the body.  Our collagen is made up of type I and type III.
Benefits of using Collagen:
Supports and Promotes Muscle Mass.
Supports and Promotes Muscle Strength.
Supports and Promotes Lean Body Mass.
Stimulates and Boosts Collagen Production.
Increases ProCollagen and Elastin.
Incorporating Noway® in your daily regime helps feed that 30% your body demands of its collagen structures specifically. That's basically 1/3 of your total body protein required in a different form to elements found typically in whey where the amino acids:
– Glycine.
– Hydroxyproline.
– Proline.
Are less typically found in abundance – but needed by the body to form that springy protein structure of collagen properly the body.
What is a Peptide?
Peptides are specific cleaved shorter strands of amino acid sequences that provide a function that is specific to where they orientate in the body. They are functional, bioactive, and work as building blocks to other forms of proteins in the body – collagen is a perfect example. They act as a more specific instructor to a task – if that makes more sense.
How much do I need?
Studies conducted on Bodybalance® show the best serving size is 15g each day for optimal absorption and utilization in the body.
**These statements have not been evaluated by the Therapeutic Goods Administration. This product is not intended to diagnose, treat, cure or prevent any disease. Please consult a qualified professional before undertaking any health, fitness or dietary program.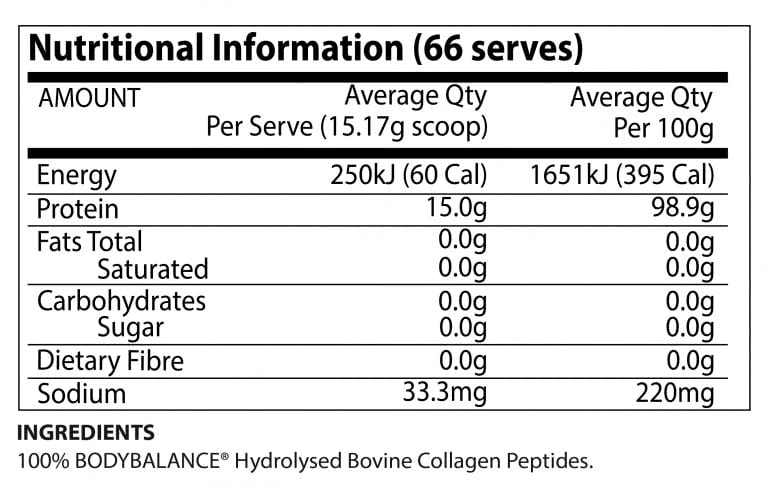 Ingredients:
Bodybalance ® Hydrolysed Bovine Collagen Peptides, Organic Fairtrade Freeze Dried Coffee (10%), Coconut Milk Powder (Coconut Milk, Maltodextrin, Modified Food Starch), Natural Flavours, Coconut MCT Oil Powder (Acacia Gum), Thaumatin, Stevia.
Directions:
1 Scoop of Noway in 250ml of cold water
Additional information
| | |
| --- | --- |
| Flavour | Chocolate., Juicy Pink Lemonade, Banana, Unflavored, Vanilla |