REDCON1 BIG NOISE (315g) PUMP FORMULA
$59.95
Description
Redcon1 Big Noise
Redcon1 Big Noise is the non-stimulant pre workout vasodilator athletes and bodybuilders have been asking for. Expand blood vessels, circulate nutrients for faster gains and recovery, and experience garden hose size veins that will last all day long. Our favorite part of Big Noise are the added focus ingredients for improved focus and memory. That way you can get the same energy and excitement to train that you'd normally get from Total War, just without the stimulants.
In just minutes you'll reach maximum blood capacity and maintain that fullness long past after you've left the gym. And of course, the long term benefits are the oxygen and nutrient flow exchange throughout the body which improves circulation and the body's ability to process nutrients and destroy harmful waste products.
Huge Pumps
Acute Focus
Extended Energy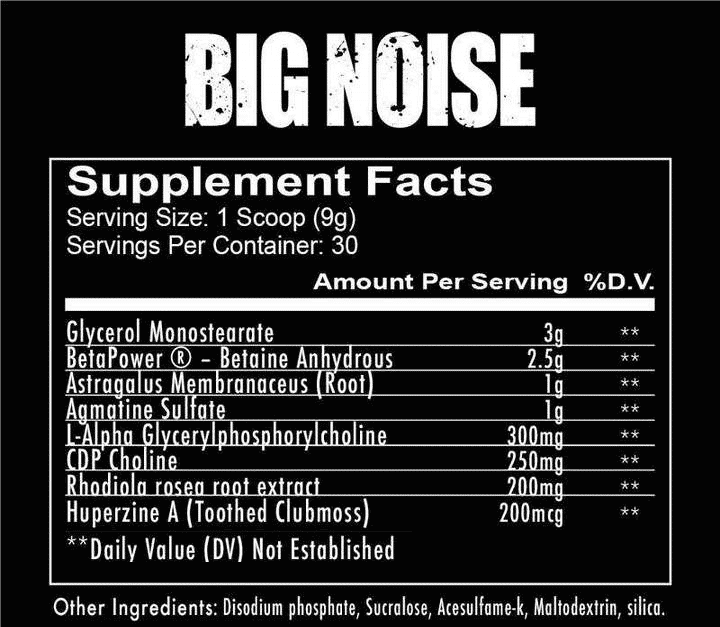 Directions For Big Noise: To maximum pre-workout pumps and muscular volume, mix (1) scoop with 4-6 ounces of water 30 minutes prior to training. Do not exceed more than (2) scoops per day.
Warnings: KEEP OUT OF THE REACH OF CHILDREN. This product is intended to be consumed by healthy adults 18 years of age or older.Before using this product, seek advice from your pharmacist or physician. Avoid using this product if you have if you have any pre-existing medical condition including but not limited to: high or low blood pressure, cardiac arrhythmia, stroke, heart, liver or kidney disease, seizure disorder, thyroid disease, psychiatric disease, diabetes, difficulty urinating due to prostate enlargement or if you are taking MAO Inhibitor or any other medication or supplements. Do not use if you are pregnant or nursing, prone to dehydration or exposed to excessive heat. Discontinue use and consult your healthcare professional.
Additional information
| | |
| --- | --- |
| Flavour | Rainbow Candy, Sour Gummy Bear, Unflavored |