Ronnie Coleman Beta-Alanine XS (100 Capsules)
$29.95
Description
Ronnie Coleman Beta-Alanine XS
Ronnie Coleman Beta-Alanine XS may enable you to delay your muscle fatigue for the most intense, most brutal and longest workouts of your life. Beta-Alanine acts as an effective acid blocker in your muscles by increasing you muscle's carnosine levels. Anyone who knows Ronnie Coleman knows that brutal workouts that are going far beyond you actual limits are the key to superhuman muscle mass and strength.
Very few people know that the virtually unavoidable acidification of your muscles during intensive workouts will not only accelerate the onset of fatigue, but is also the biggest enemy of your nitric oxide production and your body's protein synthesis – and that Beta-Alanine can be your savior in this scenario.
HIGHLIGHTS
Endless Muscle Endurance for More Brutal Reps
Maximum Muscle Protein Synthesis
Increase Pump
Increase Strength
**These statements have not been evaluated by the Therapeutic Goods Administration. This product is not intended to diagnose, treat, cure or prevent any disease. Please consult a qualified professional before undertaking any health, fitness or dietary program.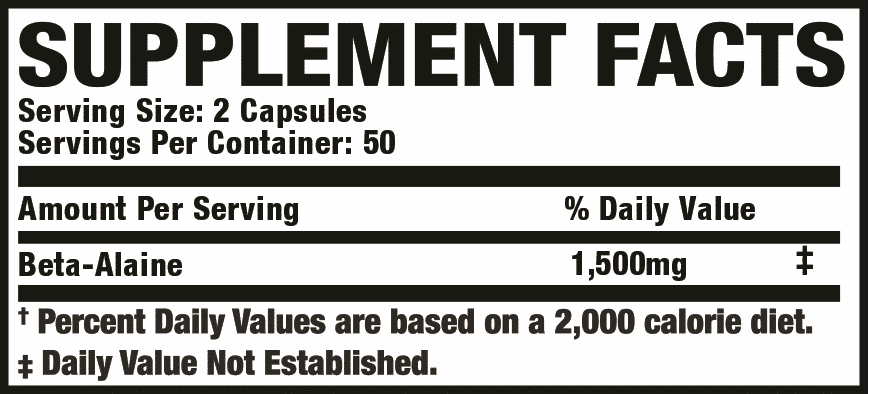 Directions:
As a dietary supplement, Take 1 serving (2 Capsules) with 8oz of water. On training days, consume 1 serving (2 Caps) 20 -30 minutes prior to workout. Beta Alanaine XS can create tingly sensation on your skin with is normal. To asses tolerance, begin be consuming half serving (1 Cap). Do add products already containing beta alanaine. This product should be used in conjunction with a proper exercise and nutrition regimen.