ALLMAX TRIBX90 (90 Capsules)
$68.95
Description
Allmax Tribx90
100% Pure Tribulus Terrestris-Ultra Concentrated Bulgarian Species!
Allmax Nutrition now provides you with the highest quality in 100% pure Bulgarian Species Tribulus Terrestris with TRIBX90. Laboratory tests have confirmed the extraordinarily high levels of Steroidal Saponins at 90% using High Performance Liquid Chromatography (HPLC) assay testing.
Scientific research has suggested that it may stimulate the body's production of luteinizing hormone which in turn promotes the production of testosterone, the key male hormone response helping to add lean body mass, increase metabolism, and support healthy libido or sex drive levels. Studies on tribulus are ongoing to this day.
Athletes use tribulus terrestris because of the purported effects of helping to insure their own natural levels of testosterone are at a normal level at all times, during times of heavy training. Tribulus continues to be used by some of the worlds' most elite athletes and has grown in popularity among recreational athletes as well. Popular among bodybuilders, tribulus terrestris is the perfect compliment to your hardcore training regime.
The source herb in TRIBX90 has been wild harvested by hand at peak season (just one specific month of the whole year!) to ensure the absolute highest levels of total concentrated alkaloids, a full 90% steroidal saponins – the purest and most concentrated active of phytochemicals! Other lesser source tribulus products on the market are most often at most 40% to 45% saponins. That makes TRIBX90 twice as strong as other products! Experience the power of wild crafted Tribulus backed by clinical laboratory testing. You can always trust Allmax Nutrition to bring you the highest in quality and potency.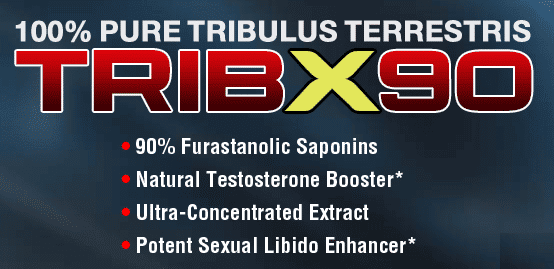 Supplement Facts
Serving Size: 1 Capsule
Servings Per Container: 90
Amount Per Serving:
Tribulus Terrestris 750 mg
Directions: Take 1 to 2 capsules daily. daily.
Warning: Not for use of persons under the age of 18. Do not use if you are currently breast feeding, pregnant or plan to become pregnant. Keep out of reach of children. Consult your doctor prior to use if you have any medical conditions or if you are taking any other medications. Discontinue use immediately if you experience rapid heartbeat, dizziness, vomiting or other similar symptoms.